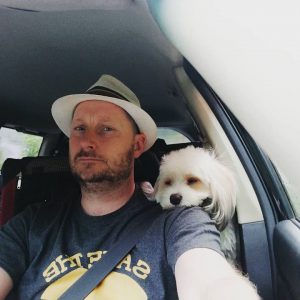 Where did Baby Yoda come from? Probably from the Burger Fuelled belly of Chris Ramage. His fur-baby Chewbacca Morningstar keeps him on his toes, and his Epoch-oliptic events business fills people with the realisation of new chapters and new beginnings.
Papatoetoe (Papa-towy-towy) is a place where few people expect to find inspiration and hope. That said, for decades, its youths have inspired people to step up and do better, not least in recent months. Situated just south of Auckland, and growing up as a pastor's son, Chris was definitely not fond of the idea of devoting his life to inspiring generations to come.
The simplicity of delighting in music, food and all things Star Wars was a much easier reality to embrace. There are few things Chris can't cook or make with a sous vide machine; and even fewer that he can't do with a burger. But in the words of his heroes: great skills come with great responsibility. 
Now firmly settled in Pyes Pa, Tauranga, Chris manages his DJ business by day, and in the evenings ensures that the residents of the Bay of Plenty get their burgers. And by night he is supporting a global movement that will help us realise that we can be superheroes too…
Meet the rest of the team
You might find you don't need to ask too many questions about where they're from – where they're going and whether you're going with them is much more interesting.