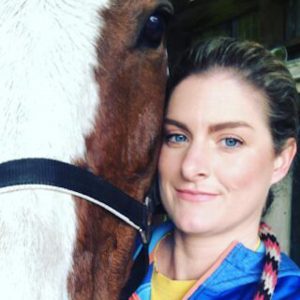 Everyone feels boxed in from time to time. Shovelling the proverbial and falling off the horse can be painful and seem like you're already dead in a ditch. But if you want someone to find their feet then you need to let them hit the ground. Better still, if you want to find pastures new then Jessica Rae Meade can help you to jump the fence.
As a marketing professional, she champions the things that are honourable about her industry. Forget those guys who create vacuous campaigns that ask you to pay a fortune for used cotton wool buds. Jess focuses her skills on the issues that matter.  
Protecting cherished land, honouring flora and fauna and helping baby kiwis find a safe place to grow is literally her day job. We're talking about the feathered inhabitants of Aotearoa as opposed to their plain-skinned roommates. Although as an active supporter of The Woman's Refuge, she's also helped create fresh starts for the less-feathered inhabitants of New Zealand.
Horses are in Jess's blood. We're not sure if she whispers to them or the other way around. Anyone who knows how to ride knows that transparent communication is vital. They also know the clarity and empowerment that comes from befriending a beast and letting it carry you.
Life sometimes takes us on journeys that don't have a neat start or finish line. Jess will never hold back information to tease, coerce or dupe you into anything. Her bounding enthusiasm and skills will guide you, and her words and actions will prepare you for the realities of the terrain you are yet to delight in and explore.
Meet the rest of the team
You might find you don't need to ask too many questions about where they're from – where they're going and whether you're going with them is much more interesting.
Pippa Gibbs Joubert
Communications strategist
Chris Ramage
Global secretariat